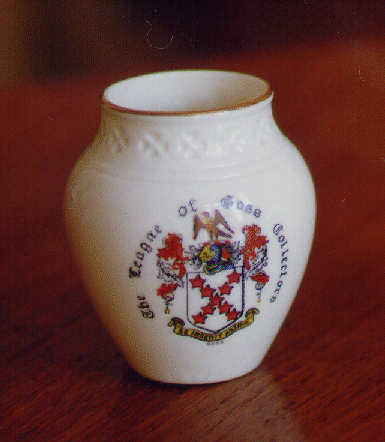 Model of Anglo-Saxon cinerary urn found at King's Newton. Copyright. This is only issued to members of more than 6 years standing & cannot be purchased.
The League of Goss Collectors
The model was first listed in the "War Edition" of The Goss Record and was the fourth League model to be issued. According to the inscription it bears, it was intended only to be available to collectors who had been members of the League for 6 years, but the Goss Record states that this system was proving to be unmanageable and that the latest model was instead being issued to new recruits on joining and earlier models in the series could be obtained at the same time from the League offices. When the model was first issued (around 1915) it was only available bearing the arms of The League of Goss Collectors. However, when the League became the International League the model also became available bearing the new arms of The International League of Goss Collectors. It is not known bearing other arms.